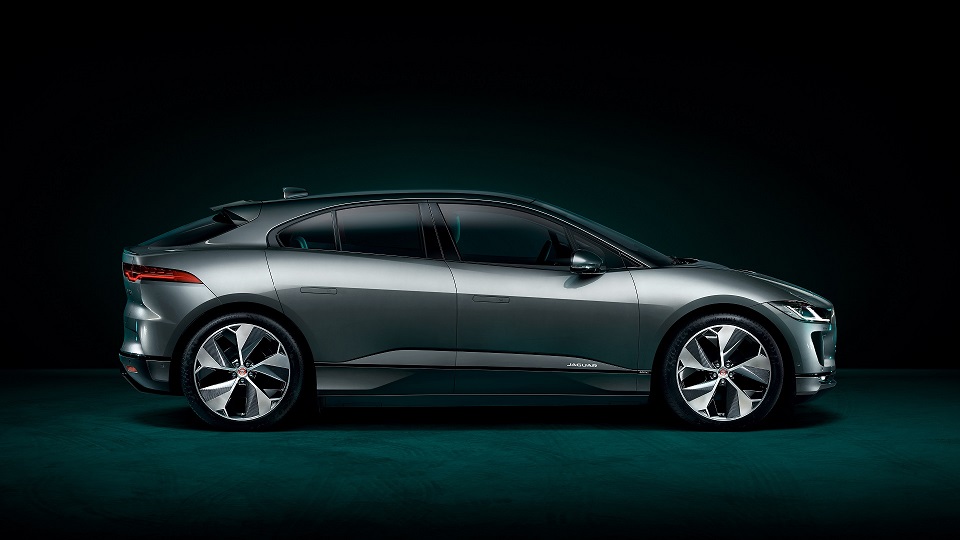 Car review: Jaguar I-Pace SE
In the first of our Fleet Operations car reviews, our MD Richard Hipkiss looks at the merits and shortcomings of the Jaguar I-Pace SE.
Employee
Employee name:
Richard Hipkiss
Age:
37
Mileage (distance and journey type – personal/business and principal road type e.g. motorway, city, country road):
26-mile round commute

15,000 business miles

7,000 personal miles

Car make and model:
Jaguar I-Pace SE
Vehicle lead time:
4-5 Months

Front of the Jaguar I-Pace SE
<Engine, Performance and Drive
Driving performance and comfort – city/ motorway/ country
★★★
This was my first experience of a pure electric vehicle, which I had for 3 weeks. As it was a temporary solution, I didn't have a home charging point – it took 48hours to charge on the standard mains!

Although the published battery range is 292 miles, a full charge was delivering about 210 miles in normal driving conditions.

Range anxiety kicked in with the thought of a 235-mile trip, so I decided to change vehicles.

The drive was very good and responsive, and overall comfort for passengers travelling in the front was good.
Running Costs and C02
Value for money:
★★★
3.6p per mile approximately on electricity.
Running costs (TCO per month, based on 20,000 miles per annum):
£968.24
CO2:
0 g/km
Lease value (per month, based on 20,000 miles per annum over 4 years):
£886.87

Jaguar I-Pace SE
Specification and Design
Equipment (e.g. Air conditioning, infotainment, sat nav etc):
★★★★
Very good specification in line with JLR range.
Appearance – exterior and interior:
★★★★
Looks great inside and out. Interior looks a little dated in comparison to other JLR products and Tesla options, although plenty of options are available.
Practicality – Incl. Interior and Boot Space
Practicality (incl. passenger and boot space):
★★
Considering this is advertised as an SUV for the roofline, it does nothing for the rear space or boot, with space similar to a medium sized hatchback.

Not suitable for a family of 4.
Reliability and Safety
Verdict
Overall rating:
★★★
This car is ideal for shorter journeys.

Educate yourself before buying one and ensure you have the most powerful home charging point your property can operate.

It requires very careful journey planning on long journeys, to stop for long enough for a public charge point to adequately charge.

Overall, it is a good option if you're looking for a premium EV, with plenty of options and technology; but it was let down by space and battery capacity.