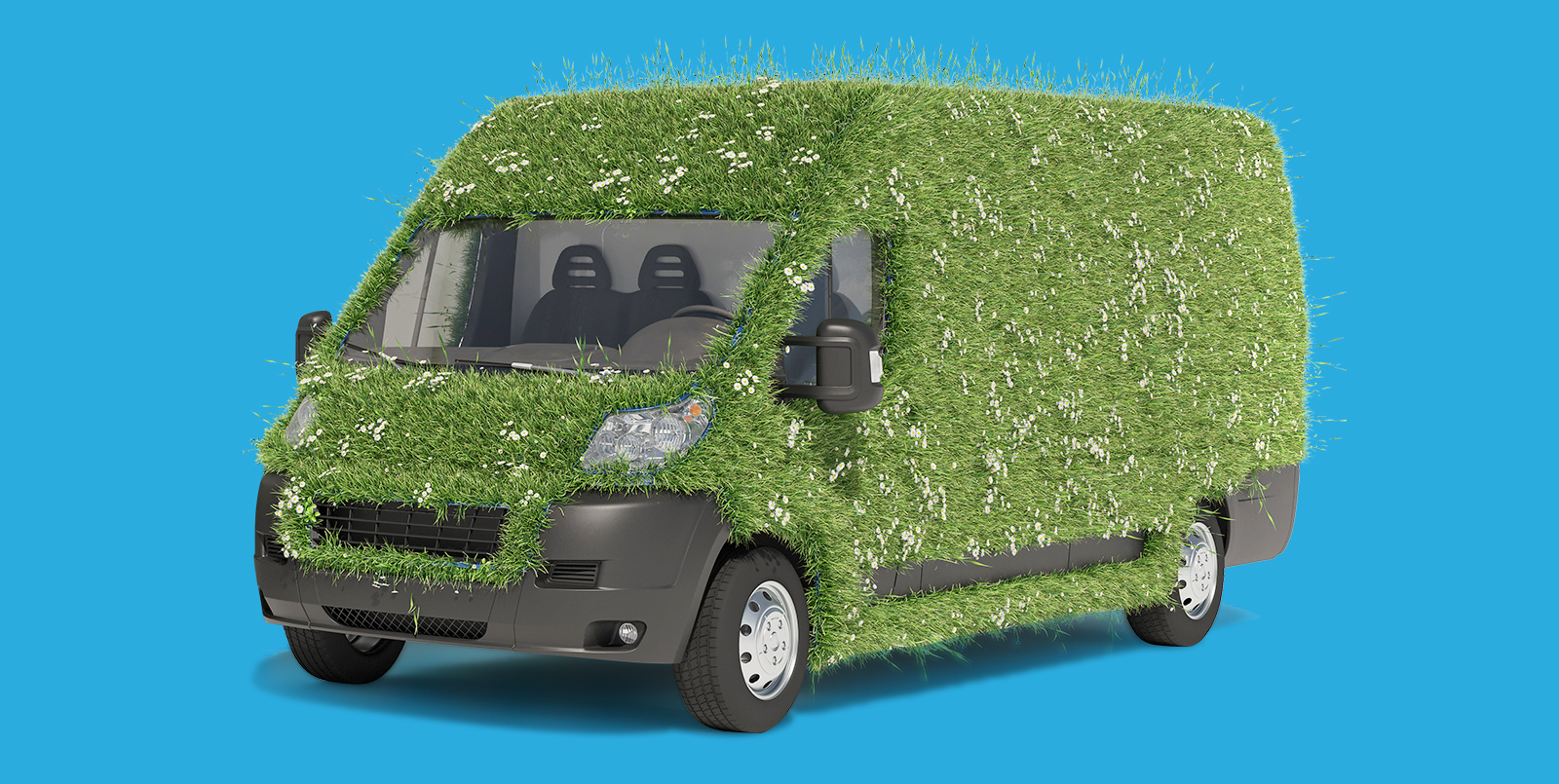 eLCVs in the spotlight: is now the time to green your van fleet?
Richard Hipkiss, Managing Director of Fleet Operations, considers the pros and cons of eLCV adoption.
With air pollution recognised as the biggest environmental threat to public health, contributing to 36,000 annual UK deaths, the government has put green transport at the very heart of its Clean Air Strategy and Carbon Budget.
The clock is consequently ticking on the future of fossil fuel combustion.
Targets to reduce emissions by 78 per cent by 2035 will be enshrined in law, and not only will new petrol and diesel car sales be banned from 2030, but LCVs under 3.5 tonnes also.
Furthermore, local authorities have been tasked with helping tackle the issue. They've grasped the baton – Clean Air Zones (CAZs) are being introduced in London and Bath, and more are due to be rolled out in other cities across the country, including Bradford, Oxford, Bristol and Birmingham.
The call to action for commercial vehicle fleets is growing ever louder, and electric LCV (eLCV) adoption is gathering pace.
But just how compelling is the eLCV business case? Here we outline the pros and cons of transitioning to electric.
The case for the electric van
Although the purchase cost of an electric van can be high when compared to a diesel equivalent, fleet decision-makers should not lose sight of the significant savings that can be made in everyday running costs.
Not only do fleets benefits from a lower cost per mile with an electric powertrain, with fewer moving parts, eLCVs also deliver lower maintenance costs.
This means that the TCO (total cost of ownership) of the latest smaller eLCVs is likely to be lower than their diesel equivalents, when all running costs, including ULEZ charges, are taken into account.
Furthermore, you don't always have to pay a premium for driving an eLCV. In some cases, there is lease cost parity with ICE (internal combustion engine) equivalents, meaning savings can be realised from day one.
Reduced vehicle downtime incidents
With few maintenance issues, e-LCVs tend to be off-road less frequently. The benefit here should be balanced against the nature and distance of typical journeys made by your fleet drivers to account for recharging time.
For commercial fleets, the more time vehicles are on the road and the more jobs completed, the better the return on investment (ROI).
In an effort to incentivise the uptake of eLCVs, from April 6 this year the government reduced the van benefit charge (VBC) for zero emission vans to £0.
A zero per cent benefit-in-kind (BIK) tax rate for company car drivers has played a big role in greening the fleet car sector – 68 per cent of total annual sales of BEVs (battery electric vehicles) and PHEV (plug-in hybrid electric vehicles) during 2020 were a result of company car registrations.
The impact on the van sector of the new VBC may prove equally significant.
What's more, a new 130 per cent super-deduction tax relief, announced in the March Budget, can be applied to fleets investing in both new vans and EV charging infrastructure. This will allow firms to cut their tax bills by 25p for every £1 they invest.
Grant subsidies and charging exemptions
New ultra-low and zero emission vans purchased in the UK are also eligible for a plug-in van grant (PIVG).
The value of the grant will depend upon the size of the van it's being applied to. Eligible vans with a gross vehicle weight (GVW) of less than 2.5 tonnes can receive up to 35 per cent of the purchase price, capped at £3,000. This cap was cut from £8,000 in March this year.
For buyers of eligible vans with GVWs of between 2.5 and 3.5 tonnes the cap is set at £6,000 (also previously £8,000).
Elsewhere, eLCV fleets are exempt from London's Ultra Low Emission Zone (ULEZ) and Bath's Clean Air Zone, and, in some areas can benefit from free parking.
Business customers increasingly want to deal with brands that can boast green credentials.
Switching to an electric vehicle fleet will help promote the reputation of your business as a responsible and sustainable market leader – and help you gain a competitive advantage in doing so.
The case against the electric van
Range limitations and lost productivity
Research has found that almost two-thirds (65 per cent) of LCVs used commercially in the UK could be replaced by electric models. The research concluded that if a vehicle drove less than 300km a day over a 12 month period – a distance reflecting the average range of the most common eLCV models – it could be replaced with an EV.
This, however, still leaves a significant number regularly undertaking mileages beyond the typical eLCV range.
Although battery tech innovations continue to extend the distances that can be travelled on a single charge, as things stand, should these vehicles be switched for eLCV equivalents, productivity rates are likely to fall, with time lost to charging at more regular intervals.
It should also be remembered that EV batteries deteriorate and over time will hold less charge, so reducing the van's range.
Although charging infrastructure is improving, consideration should also be given to availability in the areas within which vehicles are operating. Limited availability can be a particular problem in rural areas, for example, while charging space can also be at a premium at motorway services, serving to compound range anxiety and complicate journey planning.
The government's ultimate goal is for drivers to be able to charge their vehicles as easily as they can refuel with petrol or diesel, but we're not there yet.
At the turn of the year, there were 20,775 public electric vehicle charging devices available in the UK. Only 3,880 of these, however, were rapid charge devices.
The Department for Transport (DfT) plans to ensure at least six high-powered, open-access EV charge points are installed at every motorway service station in England by 2023.
Manufacturers are bringing an increasing range of electric and hybrid vans to market, but choice remains notably limited over 3.5 tonnes. This is sure to change over the next few years, but once again, we're not there yet.
The technology employed to power electric vans is in its infancy and the materials and components used are still relatively expensive. Consequently, in most cases, electric vans remain more expensive than their petrol or diesel-powered counterparts. It is for this reason that manufacturers focus on the TCO benefits.
Low running costs are an undeniable positive, but if you're purchasing outright, the higher upfront price tag may still prove a barrier to adoption, particularly in the wake of the government's decision to reduce the plug-in van grant.
The off-road cost of electrical maintenance
Although eLCVs may suffer fewer maintenance issued, when they are out of commission, it can often be for longer periods of time. This is a consequence of protracted battery discharge and recharge times, where issues relate to electrical component faults.
Payload and towing restrictions
Heavy eLCV batteries have a negative impact on payload weights.
Although government has sought to address this issue with 'alternative fuel payload derogation' – an initiative which allows standard licence holders to drive e-LCVs weighing up to 4.25 tonnes – this only addresses a part of the problem.
The greater the payload weight, the great the impact on eLCV range, which again puts a question mark over their suitability for some operators for longer journeys.
Furthermore, the ability to tow is crucial for many commercial vehicle operators – for moving civil plant and other equipment, for example. In most cases however, electric vans do not currently have the required capability to meet these needs.
Thinking about making the switch to electric vans? Contact our sustainability and eLCV experts to find out more about the benefits for your fleet.