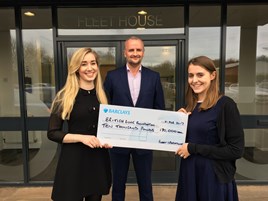 Fleet Operations Smashes Fundraising Target By Raising £12,000
Leading independent fleet consultancy Fleet Operations has smashed its 2016 annual fundraising target by raising £12,000 for local and national charities.
Staff from the Newcastle-under-Lyme company were given a £4,000 goal at the start of 2016 and set about organising different ways to reach their target.
Events included a challenging hike up Mount Snowdon, Cycle London Orbital – a 117-mile static bike ride – and most recently, a charity race evening with silent auction which raised £10,000.
"The team spirit of our employees, along with the generosity of those who have donated and attended our events, has been incredible," said Richard Hipkiss, Managing Director at Fleet Operations.
"Our staff have a strong track record of getting stuck into fundraising activities and we're thrilled to have been able to raise so much for our chosen charities. We hope to replicate, or even better, this achievement during 2017.
All money raised by Fleet Operations will be donated to Christies acute oncology services and cancer care, the Mucopolysaccharide Diseases Society (MPS) UK, the British Lung Foundation and the Donna Louise Trust.
Hipkiss added: "The charities we chose to support in 2016 were selected due to either having a personal connection to our staff or them being worthy local causes.
"We hope that our contributions will go some way to helping them to continue their fantastic work."
Fleet Operations is one of the UK's leading providers of outsourced fleet management services, helping businesses to make significant long-term cost savings on their vehicle portfolios.
As reported in Fleet News.