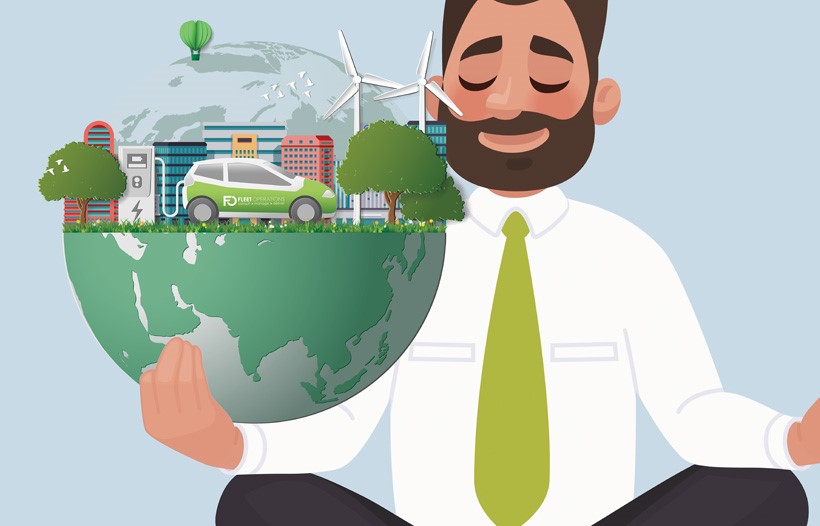 Mobility management on the move
The old adage 'a change is a good as a rest' has never been more apt. Very few sectors are currently subject to as much change as business transportation and fleet logistics. Operating under the cloud of evolving environmental, legal and political turbulence, where the connected and green world dominates, the traditional fleet management remit is becoming more complex and demand is growing for a more holistic approach to transportation and service delivery.
So, is it the end of the line for the traditional role of the stalwart fleet manager, who was once pivotal in business transportation strategy?
Fleet managers have always had to possess manifold skills and expertise, but in today's fast-paced and evolving world, their role has expanded yet further. They need to be a green crusader, a technological innovator and a political ambassador all rolled into one. Essentially, the conventional fleet manager role is being usurped by the all-encompassing mobility manager. And even if the fleet manager title remains the same, the job description in 2020 and beyond certainly won't.
Here we look at the key trends which have fuelled the evolution from fleet to mobility management and how it is opening up opportunities to cut costs.
Move over TCO
Once a boardroom buzzword, TCO is being replaced by its more forward-thinking and all-embracing counterpart TCM.
Unlike Total Cost of Ownership, Total Cost of Mobility recognises that the wider scope of mobility management is so much more than just running a fleet – and that the long term benefits are far-reaching. It encompasses the diverse integration of tech and environmental initiatives including telematics, connected car, car-sharing and alternative travel solutions with data management and budget software systems.
It even recognises that the most efficient solution may not involve travel at all – thanks to communication developments, 'fleet' managers can encourage the greenest option of all – conference calling.
At a time of significant change in attitudes to business travel, from ownership to shared vehicle access, connected car-technology, EVs and autonomous vehicles, the business benefits of TCM transcend the obvious cost savings and impact on bottom line. It facilitates smarter environmental decisions and helps deliver a better driver and customer experience.
Better fleets mean smarter mobility
Put simply, better fleet utilisation means a better customer experience. By adopting a wider mobility, rather than narrow fleet approach, management can make smarter journey decisions – from vehicle and driver selections to fuel and route decisions. The result is win-win – reduced running costs to the business and speedier and more reliable customer delivery.
In this new era of corporate mobility, there will be an evolving ecosystem of fleet optimisation opportunities incorporating smart services, data and tech. But all will need to be closely managed in order to reap the rewards.
Connected and autonomous vehicles will make road transport safer, smoother and more efficient, thanks to the latest generation of smart features. Connected cars will offer increasing levels of driver autonomy and provide greater insights into real time vehicle movement patterns, vehicle performance and driver behaviours.
Connected cars are synonymous with safety features. From adaptive cruise control and self-parking to apps which allow vehicle functions to be remotely controlled – these abstract efficiencies must all be factored into the bigger picture of TCM decisions.
Autonomous vehicle adoption will also have a huge impact on service efficiency. Apps which allow drivers to share use of a car without handing over a physical key, in-car payment systems and drivers being able to summon vehicles to their exact location could soon become the norm.
The green effect
Green fleets may be currently de rigeur and a powerful PR tool helping businesses leverage their eco credentials but soon they will become the transport and logistics norm.
Rising congestion and pollution combined with a growing urban population is prompting the government to implement strategies to encourage alternative forms of travel to private fuel guzzling, air polluting vehicles. Mobility managers who lead the way in the adoption of EVs and green initiatives will help reduce their business running costs and lower the environmental impact.
The future is en MaaS
As cities become greener and smarter, Mobility as a Service will become more and more mainstream. It will transform how consumers and companies travel – signalling a huge shift in the transport space. Getting from A to B will become a more varied yet integrated experience as the number of private vehicles reduces. Fleet managers who embrace micro and shared mobility will give end users access to the most appropriate transport mode and payment options, from an evolving bundle of flexible travel service options. The ultimate goal is to bridge the first-last mile gap and in doing so save time, money and the planet.
Driven by data
Data which is supported and accessed by a single-source platform is the foundation of successful mobility management. By having access to a constant two-way stream of information about road infrastructures, driver availability and performance, the availability of alternative modes of transport, managers can swiftly make informed, intelligent and secure planning decisions.
Likewise, data-driven budgeting tools allow mobility allowances and budgets to be benchmarked against a variety of performance parameters. The total cost of fleet ownership data can be analysed for individual vehicles or an entire fleet either nationally or internationally.
Driving the future
Technologies are starting to emerge on the market to support this move to Mobility-as-a-Service and to cater for the more integrated approach that mobility management demands.
For example, platforms are being created which offer integrated journey planner capabilities, which have significant benefits for both employee and employer.
These solutions can offer real time information about the availability of alternative transport, with instant booking on a single platform.
Operators can manage and assess all methods of travel, on both an individual and wider-company basis, whilst business users benefit from a simple-to-use, instant booking system on their smartphone or desktop.
This fully-digitised system makes for a frictionless, paperless administrative journey, gives businesses a complete overview and control over mobility cost and choice, and gives employees the freedom to choose their own method of travel in a convenient and cost-effective way.
As well as creating a more seamless, streamlined travel booking system, these applications can also help companies achieve their 'greener goals'. Restrictions can be put on more fuel-guzzling, environmentally-harmful transport options and CO2 emissions calculations can be include for each travel option to help inform employees and encourage more environmentally-conscious decisions. The wealth of data resulting from this all-in-one platform can also help inform businesses decisions, by identifying opportunities to improve travel costs and efficiencies.
The prospect of change may be daunting but the transition from fleet to mobility manager has opened up many opportunities to be more business and environmentally efficient. Both are costs worth saving.