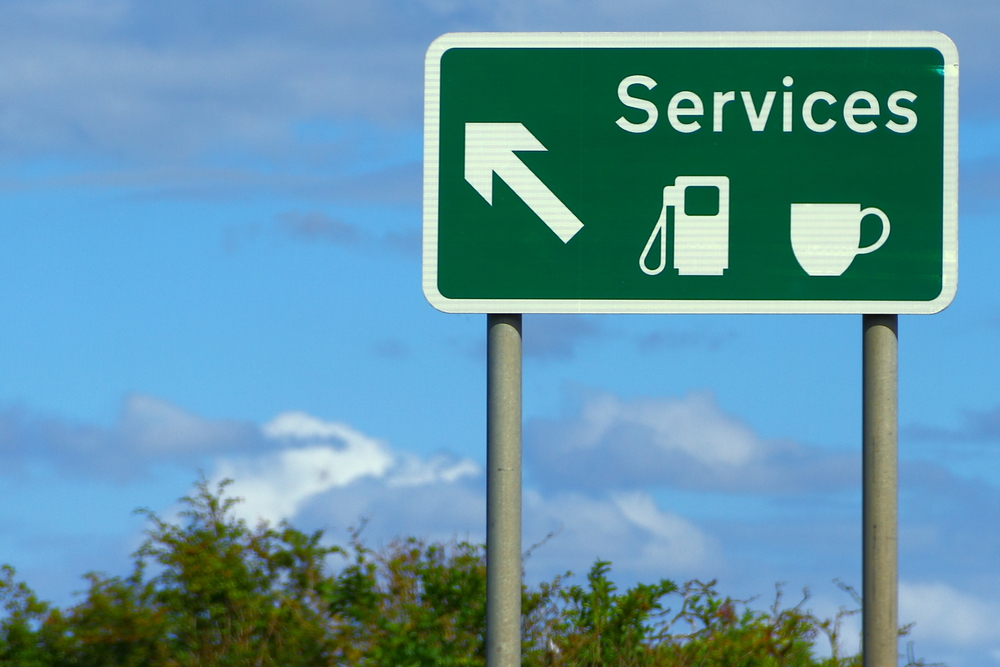 Stations at your service
Where are the best places to pit stop in the UK? Jayne Pett, Sales and Marketing Director at Fleet Operations, looks at the top 5 places redefining service stations.
For those travelling by car, coach, van or lorry – for work or pleasure, a stop at a motorway service station is as inevitable as traffic jams and middle-lane hoggers. The Highway Code recommends taking a break of at least 15 minutes every two hours. That's a lot of overpriced soggy sandwiches, salt-loaded fast food and insipid coffee consumed by UK motorists since the first service station opened at Watford Gap on the M1 on 2 November 1959.
But maybe the pasty has had its day? Is it time to say move over burger joints, farewell fast food and au revoir coffee shop chains?
People's taste in food is changing and customers will no longer tolerate the mediocre. A recent survey carried out by travel watchdog Transport Focus, names Thurrock on the M25 as the worst service station in UK – one to avoid even if you have run out of fuel or if nature calls.
A wake up call
So where are the best places to pit stop in the UK? Where can you swop your limp egg and cress for a hand-reared wild boar ciabatta with artisan damson chutney? Who offers a cosy sofa with a view to relax and unwind with an Ethiopian organic blend macchiato rather than a grab and go coffee-less coffee?
No longer just a place for a caffeine fix to combat tiredness, UK service stations are now being renovated, restored and revamped.
Let us take you on a journey of the top 5 places redefining service stations in the UK.
Best station for twitchers… 
If you find yourself in Westmorland, take a break at Tebay, the first and only family run service station in the UK. Winner of the Large Leisure and Tourism Award in Cumbria Family Business Awards 2017, Tebay Services put their farm heritage at the heart of their service station.
Their dining room overlooks rolling hills and a large pond visited by a varied and vocal local bird population. All their produce is either from their own farm or sourced locally from unique suppliers and made in their own kitchens – no mass production here.  Their artisan breads and home-made soups and stews are certainly a welcome break from a supersized, super priced meal deal.
Best for families…
Fancy tiring out your tantrumming toddler or teenager? Then we have the service station for you – Beaconsfield on the M40.
You can eat al fresco or take a walk by the large lakeside terrace with paths into the landscaped grounds and preserved woodlands. But their piece de resistance is a fabulous play area for children – so they can climb the walls so you don't have to. Meanwhile your teenager can text and tweet whilst watching the giant screen TV.
Best station for soul food… 
A duck pond, bakery and butchery counter selling hung on-site steaks and sweetbreads which can be pre-ordered on route with a fishmonger coming soon. Add a cafe and farm shop selling delicious home-cooked food sourced within a 30 mile radius and you'd be forgiven for thinking this was a picture perfect Cotswold village scene.
In actual fact you have just pulled up to franchise-free Gloucester Services. But this motorway station isn't just good for those who love good food.
They joined forces with Gloucester Gateway Trust, a local charity that funds community projects, investing in training courses for local people that lead to jobs. In fact a third of the employees at Gloucester Services come from these courses. A true pioneer of the service station excellence, Gloucester Services is here for the long haul.
Best station for truckers…
Offering pothole free parking for up to 85 trucks with 24 hour CCTV surveillance, the family run Chippenham Pit Stop on the M4 has been a haven for truckers for over fifteen years.
Their facilities include an outdoor gym for the most active, the home comforts of showers with underfloor heating and a shop selling the obligatory Yorkie through to CB radios, bedding and mobile phone top up facilities. For overnight guests, a bar serving local real ale on tap will help drivers forget they are on the job, on the road at all.
Best station for surfers…
Forgotten your surfboard or Surf Wax? Then head to Mango Surf or Saltrock at Cornwall Services on the A30 before visiting the Cornish Kitchen for some gourmet grub then hit the road…and the waves.
One for the road
So are the days of forecourts smelling of cooking fat, someone nagging you to join the RAC, broken hand dryers and the annoying bleep of arcade machines a thing of service stations past?
Motorway service stations play an important role in work and pleasure travel. They offer a much needed and convenient break to combat hunger or tiredness ensuring that drivers leave feeling less stressed, more awake and less prone to accidents.
There is no reason why all Great British motorway pit stops can't become a recreational and foodie destination. They have a hungry, captive, and constant audience 24/7 – what business would drive such customers away with lack-lustre service, poor facilities and tasteless food? Take heed Thurrock Services.