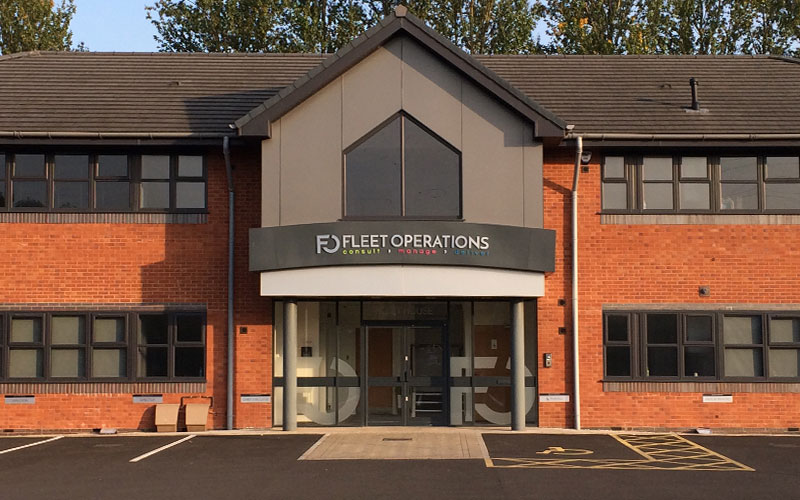 Welcome to our new home!
Fleet Operations are delighted to showcase our purpose built and brand new state of the art offices in Newcastle, Staffordshire.
Having initially moved at the end of June the building has now been fully up and running for three months and is part of a much wider and significant multi-million pound investment in our business that also includes staff recruitment and further enhancements to our already acclaimed IT Systems.
With current staff numbers at just under 40 and the new office having capacity for 65 people, there is ample room to accommodate the planned business growth, with potential to further extend our offices using additional land acquired with the building plot.
Why was the move necessary?
Our CEO, Ross Jackson, commented on the move by saying, "We have had an outstanding few years and had simply outgrown our previous office space, so we needed a building that would help us to achieve our ambitious 3-year business development plan.
We also wanted to future-proof the need to move again, so the ability to acquire land with further development potential was a key part of our strategy. The investment in this relocation, along with a number of significant new contract wins this year, underpins the confidence we have that we will meet our growth targets."
Engaging with our team
This new build project gave us the opportunity of a blank canvas to work with, so we decided to take full advantage of this by involving our team with many aspects of the new office design and internal fixtures/fittings. We are all delighted with the outcome as the new office provides the team with excellent workstation space and communal facilities designed to create a positive work environment.
What were the risks?
When undertaking a major relocation, there can be challenges with staff retention. To counter this challenge, we put in place a wide range of flexible and innovative measures designed to minimise the impact. As a result, we are delighted with the fact that all of our fantastic team has decided to make the journey from Nantwich to Newcastle and stay with us.
What's been the impact on clients?
There has been no negative impact whatsoever.
Given that our business relies heavily on the expertise and dedication of our people, retaining all of our experienced staff has meant that we have been able to make this move without impacting on the high quality of service delivered to our clients.
Moreover, every existing and prospective client who has visited our new offices has commented on how impressed they are with our new environment, as well as our great team.