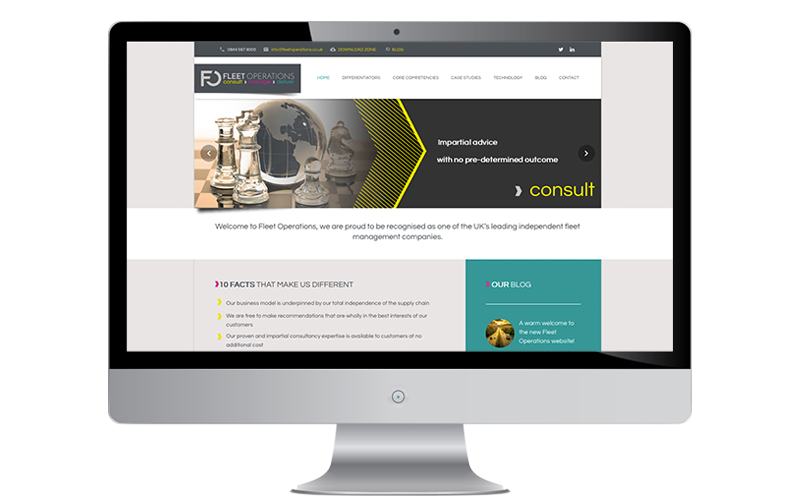 A warm welcome to the new Fleet Operations website!
To mark the occasion, we thought we'd focus our blog post on our brand new site and tell you more about it. We'd like to give our loyal clients more of an inside view of our company; especially those who've been with us over the years and seen us evolve.
Why did we rebrand?
As you can tell, our site has had a total rebrand, from a new logo design, to colour scheme and tone. Our fresh approach to managing the fleet needs of our clients has been broken down to incorporate the three core messages of consult, manage and deliver. These key words build on our success to date and create a platform from which we expect to deliver ongoing success in meeting the very bespoke needs of our current and future clients.
We wanted to include an overview of the sales journey in our logo to ensure that it was clear and easy for people to understand right from the start. It was important to us that our unique model was conveyed honestly and incorporating our message into the brand does exactly that.
What's new?
Taking inspiration from how we work with our clients, we wanted our new website to be clean, concise and straightforward to use. The information on our services also had a refresh to reflect how we communicate with our clients and explains the services we offer simply and easily.
As thought leaders, we know you're interested in what we've got say.
As such, our blog plays more of a feature to give you the latest industry news, insights and know-how. If you want to keep to up-to-date on any industry developments, you'll find it here first.
What it means to you
Overall, it was essential to us that our new branding and website reflected our company values and how our products and services differ from the industry norm. In addition we wanted to clearly set out the differences that our clients would find when working with us.
Feel free to contact us to find out more and in the meantime, take a look around the website and let us know what you think.